We may earn a small commission when you purchase through affiliate links on our site. Learn more.
There are only a handful of companies that are consistently able to produce high-quality noise cancelling headphones worth paying attention to, and Sony is undoubtedly one of them.
The Sony WH-1000XM5, the most recent update to the company's flagship noise cancelling headphones, builds upon that reputation with several notable improvements.
With its advanced features and superior sound quality, these headphones are the one to beat in the crowded and competitive wireless headphone market.
In this review, we'll take a closer look at the WH-1000XM5 and evaluate its design, comfort, build quality, sound quality, battery life, and new features to help you decide if it's the right choice for your needs.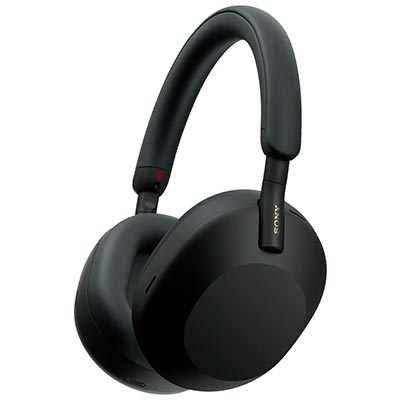 Sony WH-1000XM5
The Sony WH-1000XM5 headphones offer exceptional audio quality, top-notch noise cancellation, and a comfortable fit. With advanced features and impressive battery life, they are a top choice for music lovers and travelers.
Check Price
PROS
Excellent noise cancellation
Outstanding audio performance
Bluetooth multipoint
Very long battery life
Smart ambient features
CONS
New design doesn't fold
Bulky carrying case
Pricier than previous model
Not waterproof
Design
The Sony WH-1000XM5 wireless headphones have a sturdy and functional design that is perfect for anyone who prioritizes comfort and functionality over portability. These headphones are slightly bulky, and there may be better choices for people looking for compact headphones.
They weigh around 250 grams, which is not the lightest on the market, but they are still comfortable to wear for extended periods. The ear cups are well-padded and do not put pressure on the ears, making them suitable for long listening sessions.
The headphones are available in black and silver, both of which have a matte finish and look very sophisticated.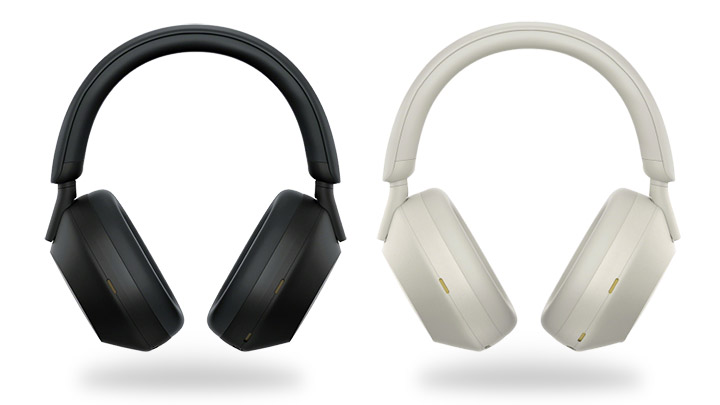 Unlike some of the other wireless headphones on the market, the WH-1000XM5 is not foldable. This may be a disadvantage for people looking for headphones that are easy to carry around. However, Sony has compensated for this by including a sturdy carry case with the headphones.
The headphones also feature touch controls on the right ear cup, making it easy to play/pause, skip tracks, and adjust the volume without taking them off.
Comfort
The earcups are covered in a new "soft fit" leather that feels comfortable against the skin. The cushions provide ample space for the ears, which helps to reduce pressure during extended listening sessions. The earcups are also well-padded with a memory foam material, which conforms to the shape of the ears and provides additional comfort.
In addition to the earcups, the WH-1000XM5 has a comfortable headband made from soft and lightweight material. The headband is also padded with memory foam, which makes for a comfortable fit around the head without putting too much pressure on the skull. The headband is adjustable, making it easy to customize the fit of the headphones to suit individual preferences.
Build Quality
The WH-1000XM5 and its predecessor, the WH-1000XM4, have some differences build quality. Sony has added a few design changes that give the WH-1000XM5 a more sleek and modern appearance.
The headband is now integrated into the earcups, which helps to distribute the weight of the headphones evenly across the head. The hinges that connect the earcups to the headband are made from metal and feel very robust, ensuring durability and longevity. The WH-1000XM5 is primarily made of high-quality plastic, which adds to the overall sturdiness of the headphones.
While the XM5's build quality is good overall, it's less flexible than the previous generation. Some may dislike this lack of folding earcups on this newer model, which can make them less portable. However, the XM5 headphones have some minor improvements in the hinge mechanism and materials used for the earcups, which contribute to their durability and overall build quality.
Sound Quality
The WH-1000XM5 produces exceptional sound quality that is well-balanced and detailed. Equipped with 40mm drivers, they deliver rich and powerful bass, clear midrange, and detailed highs.
It also supports a wide range of codecs, including LDAC, AAC, and SBC, that ensure high-quality sound reproduction.
The built-in microphone delivers clear and crisp voice calls, even in noisy environments. The Auto NC Optimizer blocks out a wide range of external noises, making them suitable for use in loud environments. They also have an ambient sound control feature that allows users to hear external sounds when necessary, which can be useful in situations where it's important to be aware of your surroundings.
Featuring excellent Bluetooth performance, the WH-1000XM5 supports Bluetooth 5.2 and NFC pairing. The headphones can easily connect to multiple devices with a range of up to 30 feet. This makes it easy to switch between devices when necessary.
The WH-1000XM5 offer exceptional audio performance and advanced features, making them an excellent choice for those seeking high-quality sound.
Battery Life
The Sony WH-1000XM5 wireless headphones boast an impressive battery life that ensures uninterrupted listening for long periods. They offer up to 30 hours of total battery life (3.5 hours charging time) with noise cancelling turned on and up to 40 hours with ANC turned off.
They can provide up to 3 hours of use with just a 3-minute quick charge using the included USB-C cable. If the battery does run out, you can always plug in a 3.5mm cable and switch to analog listening.
The headphones also have a battery-saving sensor that automatically pauses audio playback when removed from the head and resumes playback when put back on.
Features
The Sony WH-1000XM5 wireless headphones come packed with features that make them stand out from the crowd.
The headphones feature advanced noise cancellation technology that utilizes two processors and eight microphones to provide unprecedented noise cancellation. Additionally, the headphones have an Auto NC Optimizer that automatically optimizes the noise cancelling based on your wearing conditions and environment. The Adaptive Sound Control feature helps to adjust the sound settings based on your activity, such as walking, traveling, or waiting.
The headphones are engineered with the new Integrated Processor V1 and have a frequency response range of 4 Hz–40,000 Hz, providing superb sound quality.
The headphones also have crystal clear hands-free calling with 4 beamforming microphones, precise voice pickup, and advanced audio signal processing.
With the multipoint connection feature, users can quickly switch between devices, making it easy to manage multiple devices at once.
Additionally, the Speak-to-Chat feature automatically stops the music and lets in ambient sound, making it easier to have a conversation without having to take off the headphones.
The WH-1000XM5 offers excellent voice assistant integration, allowing for hands-free help with Google Assistant and Amazon Alexa. This feature makes accessing information and controlling music playback easy without using your phone.
Overall, the Sony WH-1000XM5 wireless headphones are packed with features that cater to a variety of needs. With these features, the Sony WH-1000XM5 headphones are an excellent choice for people who demand advanced features and exceptional sound quality.