We may earn a small commission when you purchase through affiliate links on our site. Learn more.
The 1Mii B03Pro+ Bluetooth transmitter receiver has gained popularity as a versatile adapter for streaming Bluetooth audio to one or more speakers, soundbars, or headphones. Its compact size, reliability, and certified LDAC rating, make it a top choice among users. In fact, we classified it as one of our best Bluetooth TV adapters.
But it's not without its drawbacks. For the cost of the upgrade, the B03Pro+ offers minimal differences from its predecessor. In this review, we'll share the results of our research to help you decide if this Bluetooth transmitter receiver is the right one for your device.
In This Article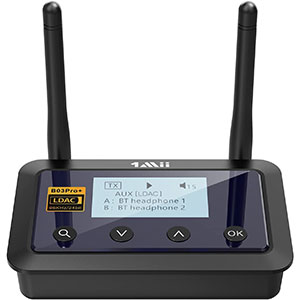 1Mii B03Pro+ Bluetooth Transmitter Receiver
The B03Pro+ supports a wide range of codecs, including LDAC, aptX-HD, and aptX-LL, for high-resolution audio over Bluetooth. It features an on-screen display and allows simultaneous audio output through Bluetooth headphones and wired speakers.
Check Price
Design: Size, Display, and Controls
While it may not be the smallest transmitter receiver available, the 1Mii B03Pro+ remains discreet enough to seamlessly blend into just about any audio setup. Despite being made of mostly plastic, the B03Pro has a solid, sturdy build. Its construction guarantees durability, and 1Mii assures it can withstand everyday usage without any concerns.
While its form factor is impressive, the key differentiating factor of the B03Pro+ from its predecessor is its LCD display screen. This new addition lets users to quickly identify and select the desired Bluetooth device for pairing.
Including a screen offers significant benefits, particularly when encountering Bluetooth issues. If the B03Pro+ fails to detect your device, the screen provides visibility into its discoverability status, enabling you to make necessary adjustments in your surroundings to enhance the wireless signal. Additionally, two adjustable antennas are located on the rear of the B03Pro+. They can be positioned where they will receive the optimum signal.
The adapter also features convenient volume up and down buttons for easy adjustment of sound levels. This functionality proves helpful in situations where your device lacks physical volume buttons or requires the use of an app for volume control.
Bluetooth and Range
The B03Pro+ supports Bluetooth 5.0, which offers faster transmission, a better range, and a more stable connection than previous Bluetooth versions. It's worth noting that it does lack some of the features introduced with Bluetooth 5.1, like faster connectivity and less interference from other devices.
Bluetooth 5.1 provides direction-finding features that allow devices to understand the direction from which a signal comes, enhancing location accuracy. However, this is not a critical feature for a device like the B03Pro+, which is mainly used for audio streaming. Bluetooth 5.0's benefits are more than sufficient for delivering excellent sound quality and reliable connectivity.
While the benefits of Bluetooth are well-known, one crucial aspect that often goes unnoticed but plays a pivotal role in the overall experience is the range of this wireless technology. The B03Pro+ excels in Bluetooth range. It boasts an impressive range of up to 230ft (line-of-sight in open air) and up to 70 to 100ft indoors.
Multi-Device Pairing (Dual Link)
Perhaps the central feature of the B03Pro+ is its multi-device pairing capability called Dual Link. This allows users to simultaneously connect and switch between two Bluetooth devices like headphones or speakers.
Dual Link is great when two people want to watch TV quietly with headphones at night without bothering anyone else. It's also useful whenever you want to share music or other audio between two speakers.
Setting up Dual Link is a breeze. Simply pair your desired Bluetooth devices with the B03Pro+ adapter, and you're ready to go. Whether using two sets of headphones or a combination of headphones and speakers, the adapter effortlessly manages the connection, ensuring that audio is transmitted without any interruptions or delays.
Switching between devices is as easy as pressing a button. With a simple toggle, you can alternate between the connected devices, instantly redirecting the audio stream to your chosen device. This flexibility is perfect for shared listening moments, allowing you to seamlessly switch between different users or create a synchronized audio experience across multiple devices.
Sound Quality (Codec Support)
We were impressed with the B03Pro+'s clear, low latency audio. It supports high-quality codecs like AAC, aptX, aptX HD, aptX LL, and LDAC, ensuring a seamless and lossless audio experience. Let's take a closer look at each of these codecs and their performance with the B03Pro+.
AAC (Advanced Audio Coding) is a widely used codec known for its efficient compression and high audio quality. aptX is a codec developed by Qualcomm that offers low-latency and high-quality audio streaming. Building upon the foundation of aptX, aptX HD takes audio quality to the next level by providing high-resolution audio support.
This codec allows for the transmission of 24-bit audio at a sampling rate of up to 48 kHz. AptX Low Latency technology is a remarkable feature that effectively eliminates the frustrating lip sync delay often experienced when using Bluetooth connections. LDAC is a high-quality audio codec developed by Sony. It enables the wireless transmission of high-resolution audio content over Bluetooth connections.
Inputs/Outputs and Power
What makes the B03Pro+ so versatile is that it can connect to many different devices. Even if your TV or speaker is an older model without Bluetooth capability but offers RCA or optical outputs, the B03Pro+ is your perfect companion.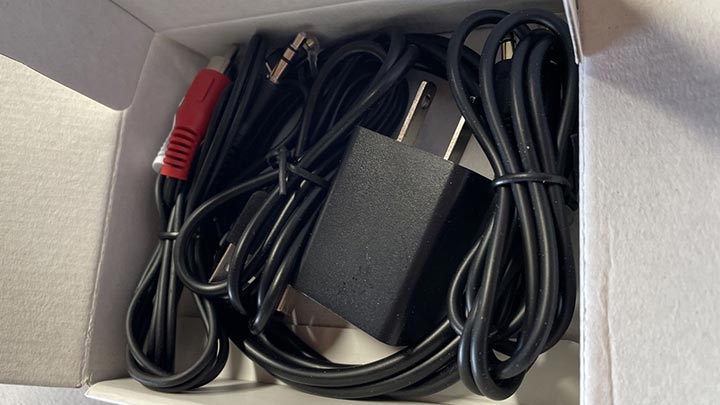 It is equipped with optical and 3.5mm inputs/outputs and generously provides an optical cable, a 3.5mm audio cable, and a 3.5mm to 2-Male RCA cable for seamless connections. The B03Pro+ goes beyond just working with virtually any stereo system; it also simultaneously transmits audio to wireless headphones/speakers and wired soundbars/speakers.
This adapter runs on an included USB power cable and adapter. However, the B03Pro+ could be more portable with rechargeable batteries like some competitors.
Final Verdict
The 1Mii B03Pro+ Bluetooth Transmitter Receiver offers a solid, durable design that seamlessly blends into any audio setup. Its key differentiating factor is the inclusion of an LCD display screen, which makes it easy to identify and select the desired Bluetooth device for pairing. The Bluetooth 5.0 technology ensures faster transmission, better range, and more stable connections, providing excellent sound quality and reliable connectivity.
One of its standout features is the multi-device pairing capability called Dual Link, allowing users to connect and switch between two Bluetooth devices effortlessly. Pair the 1Mii B03Pro+ with a high-quality set of headphones, like one from our list of the 10 best noise-canceling headphones, and you're in for an unparalleled wireless listening experience. Moreover, the B03Pro+ supports high-quality codecs like AAC, aptX, aptX HD, aptX LL, and LDAC, ensuring a seamless and lossless audio experience. It offers various outputs and inputs, making it compatible with a wide range of devices, including older models without Bluetooth capability.
On the other hand, if you already have a previous model, it may not be worth the upgrade. The 1Mii B03 is a more budget-friendly option, perfect for those needing a reliable Bluetooth transmitter and receiver without some extra bells and whistles. An area where it could be improved is by incorporating rechargeable batteries for enhanced portability.
All things considered, this unit is a fantastic choice for those looking to enhance their audio setup, and it's worthy of consideration when examining the best Bluetooth TV adapters on the market. The 1Mii B03Pro+ is a versatile, compact, and reliable device that does what it promises – delivering high-quality, wireless audio to one or more headphones or speakers.